RS232-MDB® (PC2MDB®)
For
Easy Vending Machine Cashless Payment Design
A simple yet powerful way to connect the RS232 interface device including PC,PLC,Raspberry pi or Android board to the existing vending machine.and working as the slave cashless payment device.
How does the RS232-MDB work with the PC? The RS232-MDB is connected with the existing vending machine to work as a cashless payment module. Complete almost all initialization and MDB protocol data exchange. The role of the PC is the payment collection terminal, as long as it is necessary to send simple instructions to the MDB box through the serial port to add the credit (swipe the card) to start the vend session, confirm the vend, and end the vend session.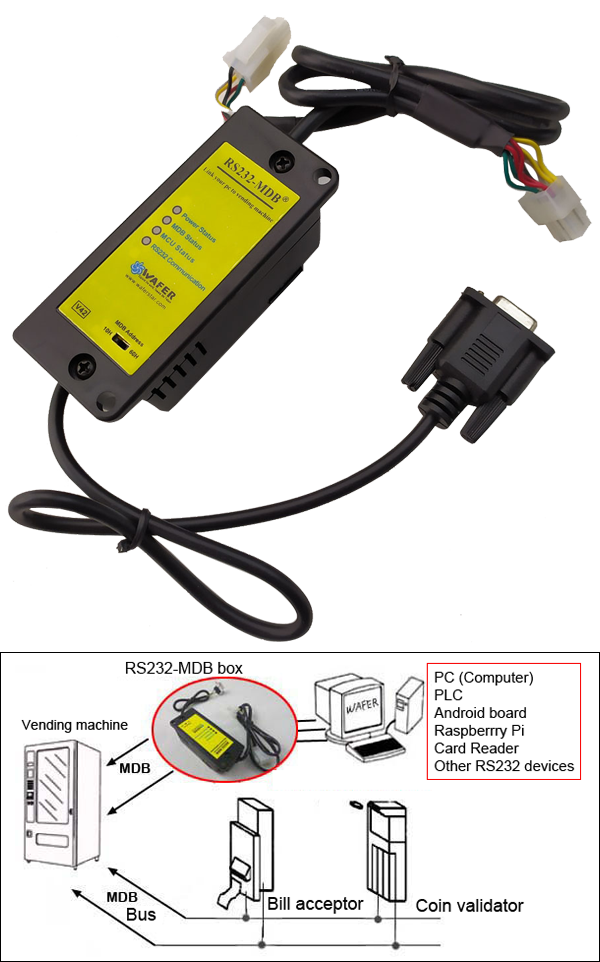 RS232-MDB® (Raspberry Pi Version)
For
Vending Machine Cashless Payment Design with Raspberry Pi
We provide an included plastic Housing that allows the MDB board to be plugged into the GPIO header of the Raspberry Pi board to assemble it together.
The assembled set is connected to the vending machine through the MDB harness, communicates through the MDB bus of the vending machine, and also supplies power to the MDB board at the same time from MDB bus. The MDB board will supply power to the Raspberry Pi through the GPIO bus. In this way, the Raspberry Pi does not need to be equipped with an additional power adapter. The communication between the MDB board and the Raspberry Pi is through RXD and TXD on the GPIO bus.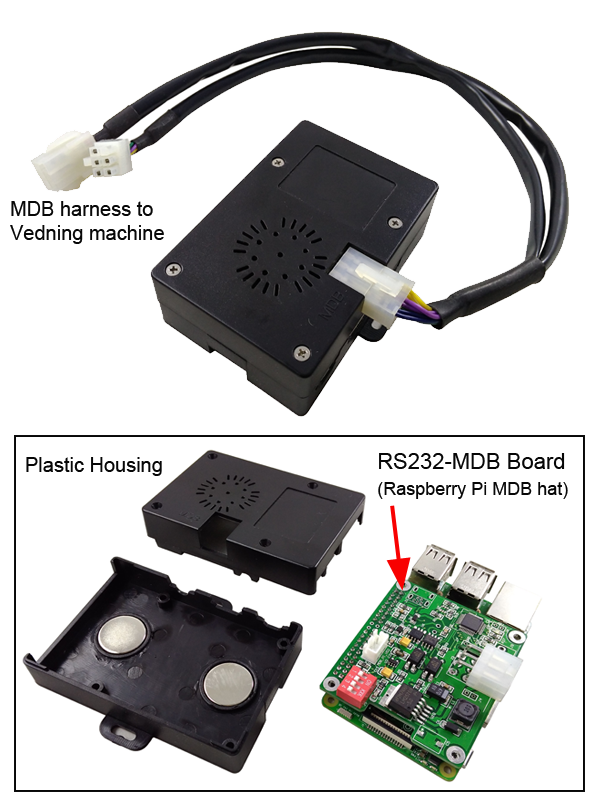 About The RS232-MDB(PC2MDB) Adapter box
---
Smart cashless payment adapter box for vending machine!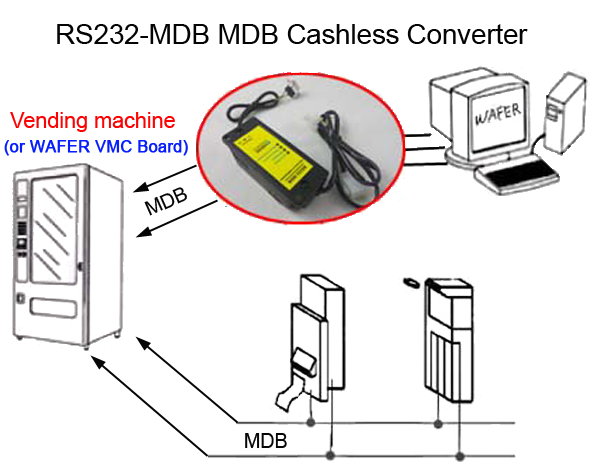 Smart Designed RS232-MDB Adapter Box
The vending industry standard NAMA Multi-Drop Bus (MDB) may now be interfaced a PC to the existing mdb interface vending machine with the RS232-MDB. The RS232-MDB allows PC computer,android maini board, Raspberry pi, RS232 pos and all other RS232 controllers to be connected to the vending machine.Follow WAFERSTAR's quick use guide and send some simple and necessary instructions to realize cashless payment. It's easy to get started and complete the design.
Conforms to all NAMA MDB specification and is compatible with any MDB compliant vending machine. Hardware interface comes with cables,user's guide and user's protocal.
Smart VMC vending machine simulator
---
Smart VMC board with Dex interface for MDB cashless payment development!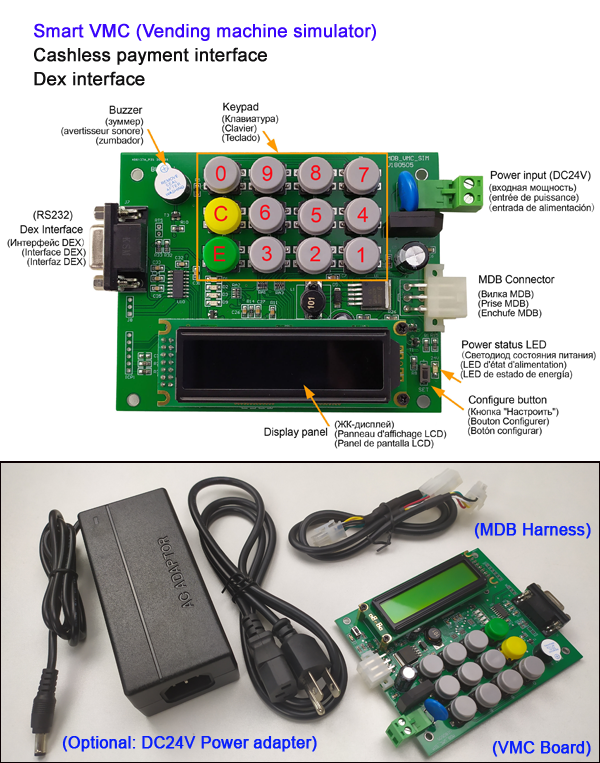 Who will use this board?
1. Develop the vending machine mdb payment interface, including coin acceptor, bill acceptor or cashless payment device. Of couse, your target project must be MDB interface payment.It can also be an assistant for learning DEX interface and developing vending machine data management system.
2.Want to develop the vending machine management system, vending machine management server. For above project ,but you don't have a real vending machine and also that real vending machine is big size and heavy to move to the engineer office
How can we use this vmc board ?
Very simple to use. You just connect your MDB payment device, VMC will detect the mdb device . And you can pay through the mdb payment device and then select the goods, then VMC board will simulate to dispense the goods and end the order processing.

Letpos: Connect MDB payment device to Pulse vending machine
---
Smart payment module, compatible with MDB coin acceptor,bill acceptor and cashless card reader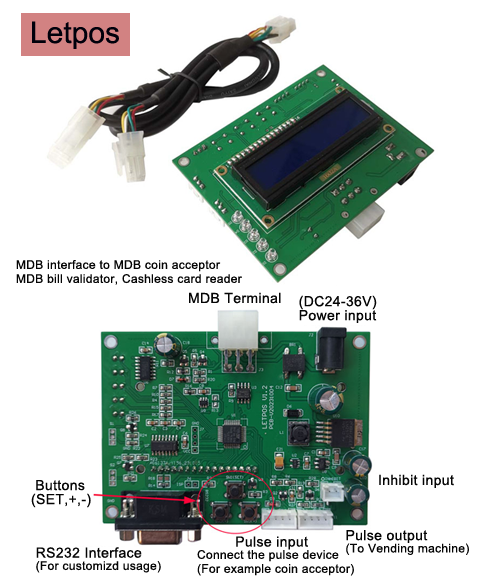 Who will use this board?
1. Simple vending machine,for example,washing machine,water vending machine, it just has the pulse payment input , but want to connect a MDB card reader to it and pay with the cashless card.
2. It still can connect the pulse coin acceptor together to accept the payment.
How can we use this Letpos board ?
Very simple to use. Just attach the original pulse coin device to the LETPOS board, and also plug the MDB payment device,for example Nayax card reader to the Letpos board. Provide 24V power supply, and then the pulse output of the board can be connected to the pulse input port of the previous vending machine. And just a few simple setting with the price per pulse, Pulse width, Minimum price to start and so on.

>
20

Brands

Cooperated Brands
>
10000
Mounted Vending machine
RS232-MDB(PC2MDB)'s Main Features
---
Happy to select and use our MDB box. It is very easy to start!
Innovative Design
Easy to start and Simple communication command to realize cashless payment for vending machines.
Good quality in manufacture
We manufactured more than 10,0000 units mdb box for the worldwide market.
Low Pricing
Provide the economical solution for vending machine cashless payment interface development.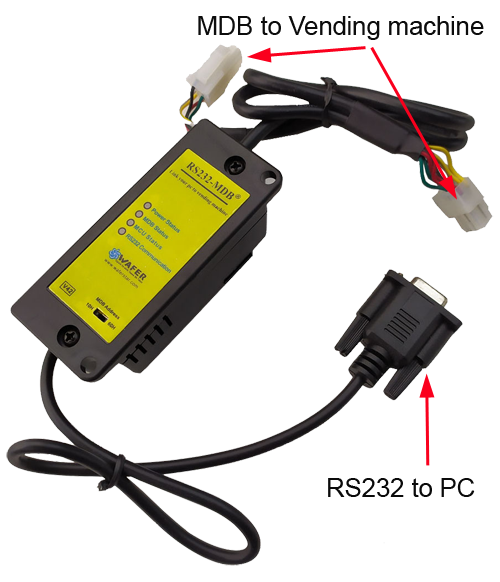 Fully Secured
Provide security and reliability of vending machine payment.
Easy to Use
We provide the simple fast start manual and technical service during your development.
Good service
Very rich MDB technical experience, can provide very complete technical support and remote service on the skype.
We Design, Manufacture and Sale
---
Hot-selling products from WAFERSTAR related to vending machines!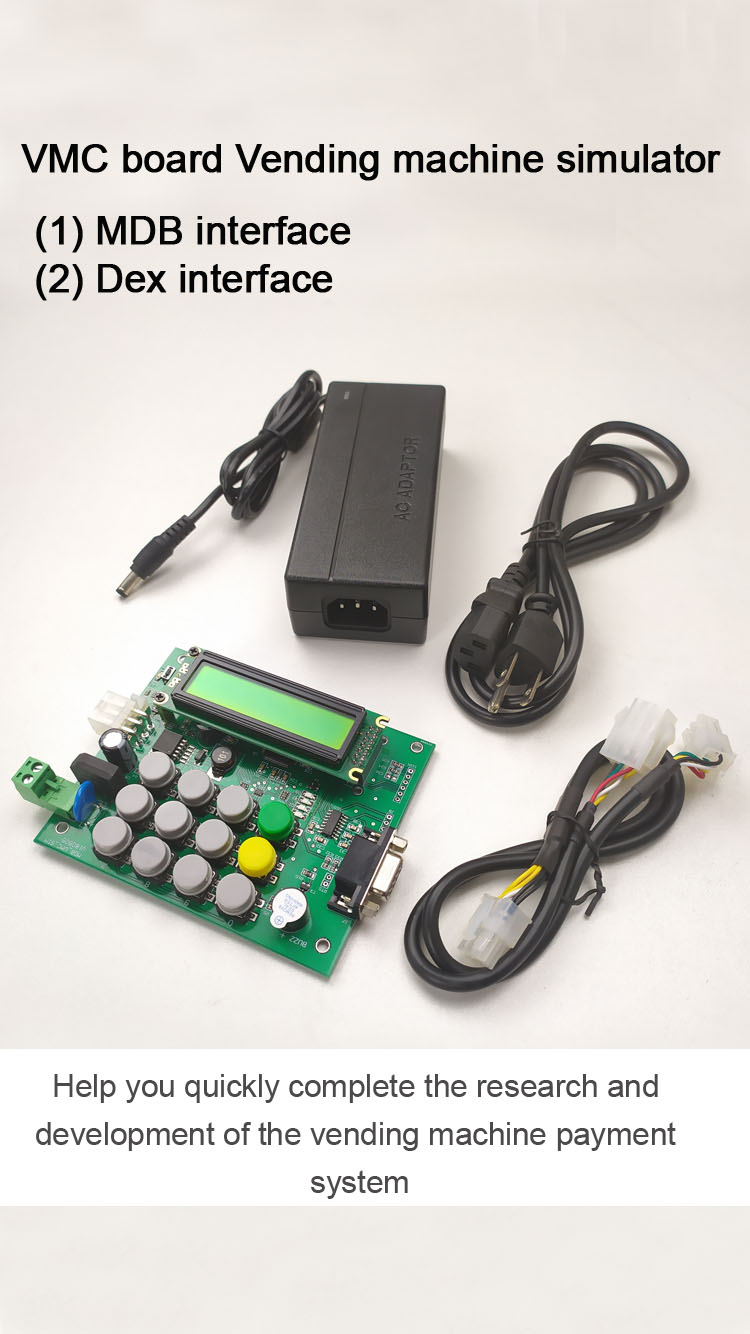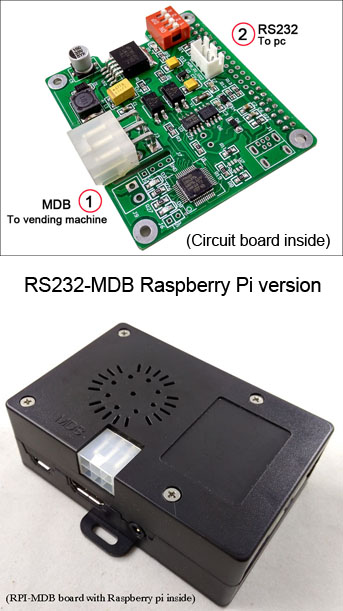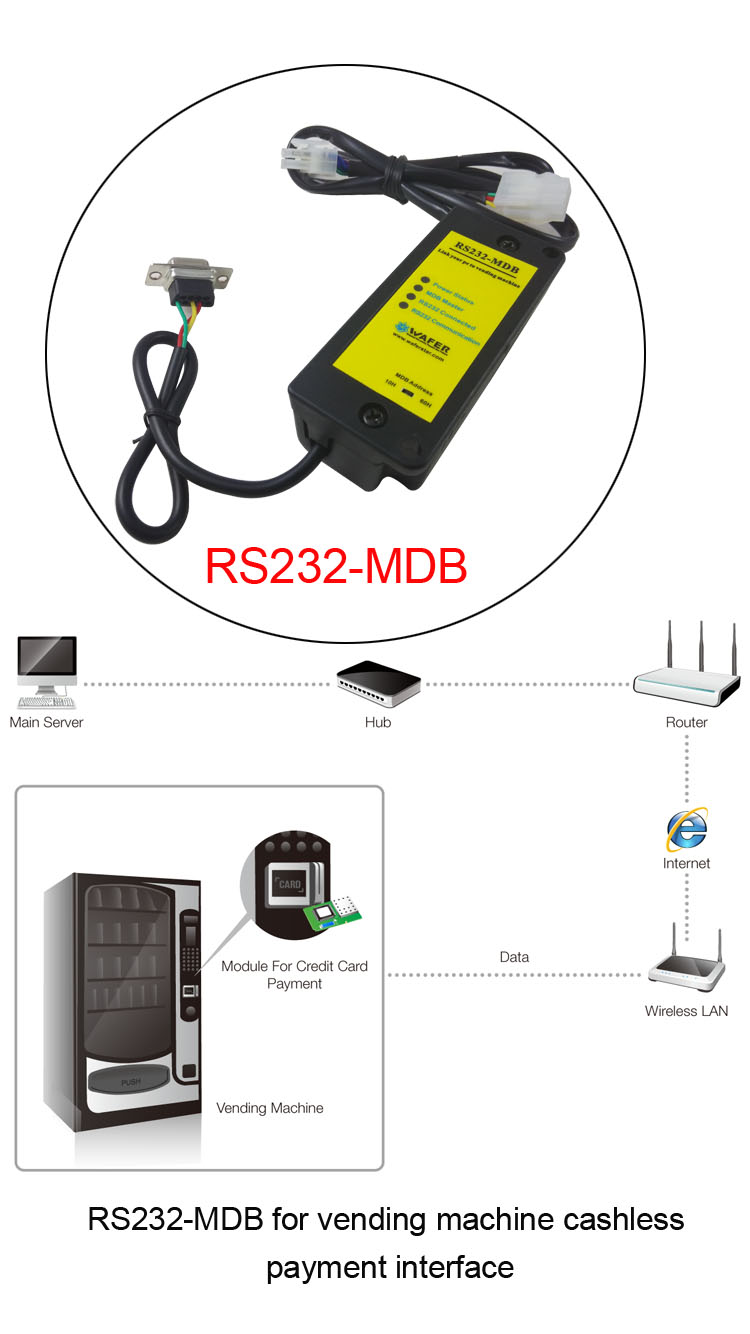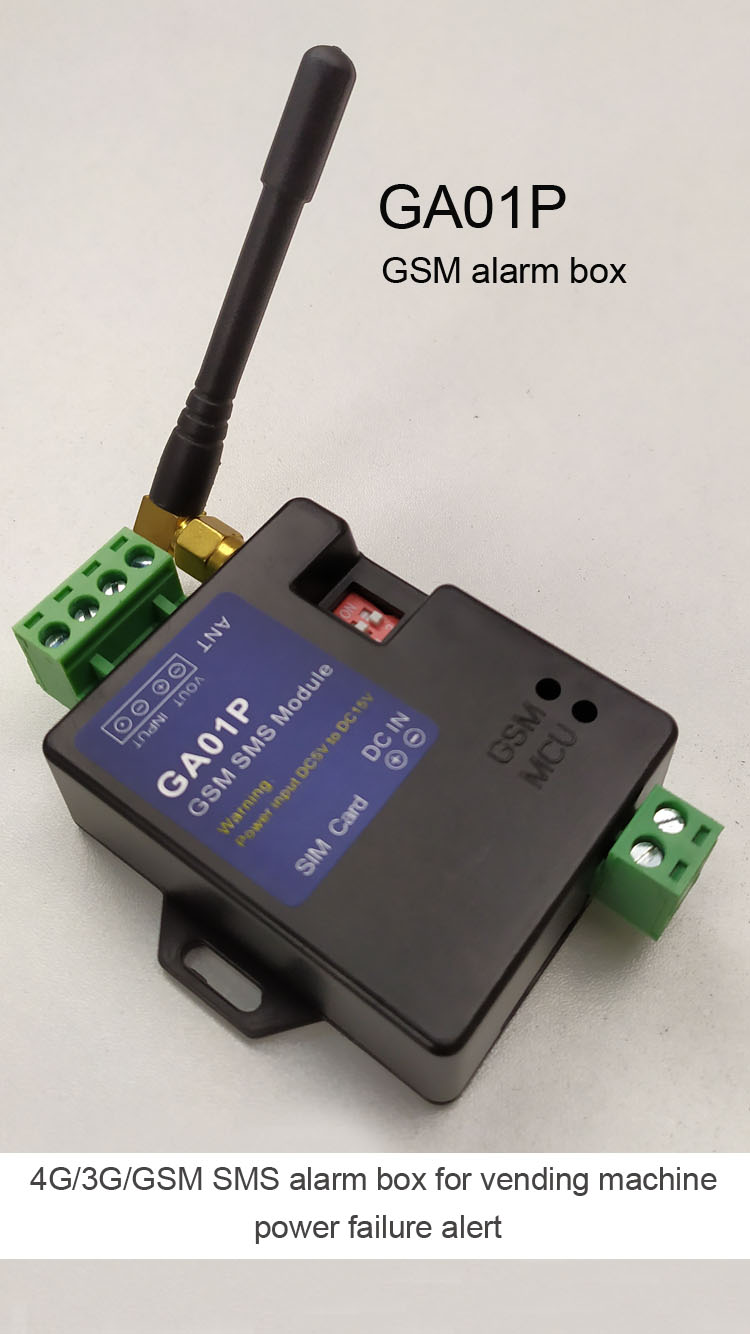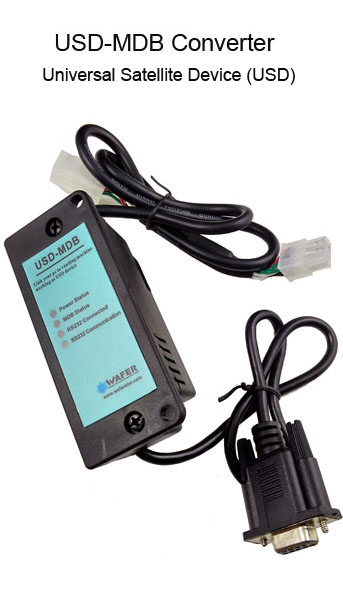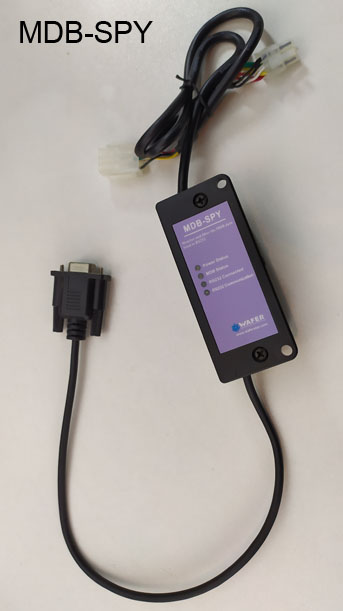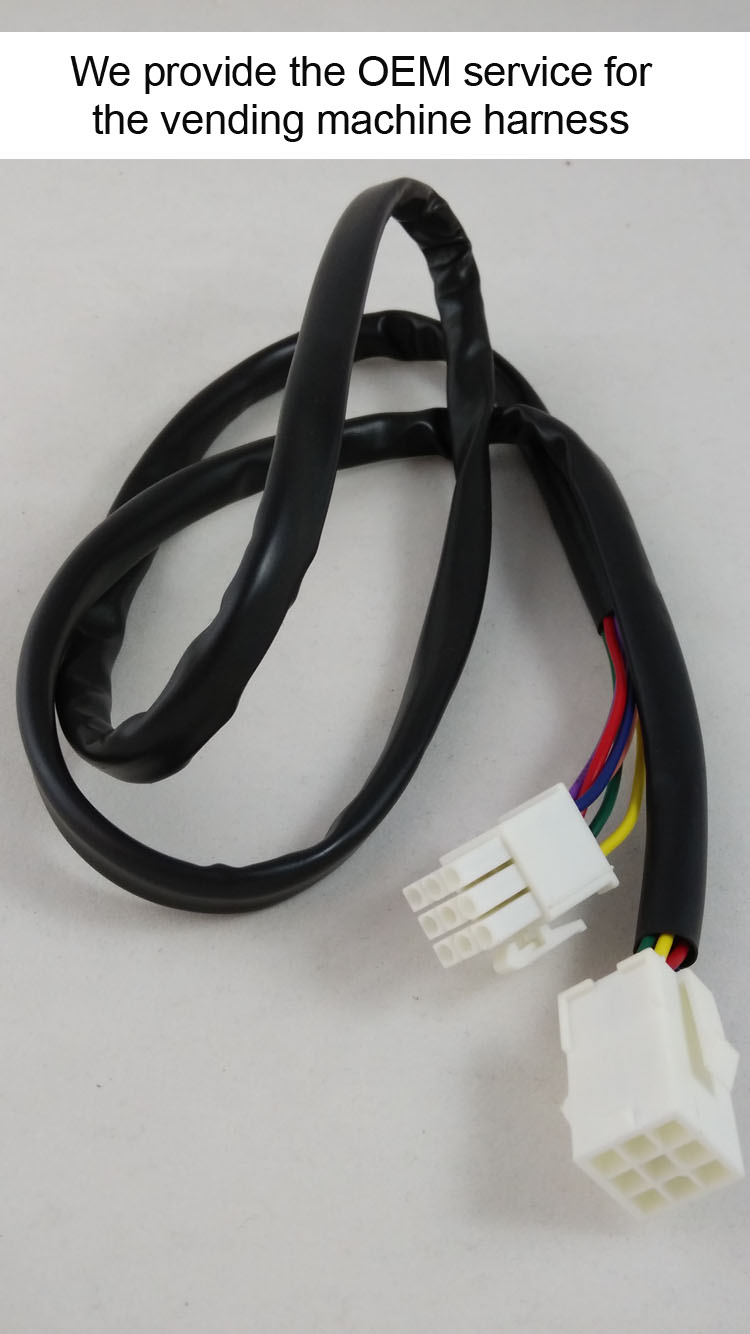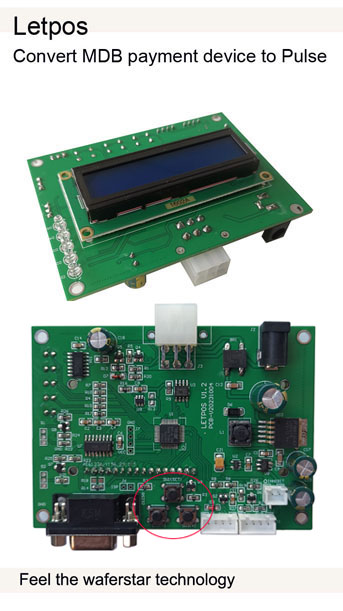 What Our Users Say's
---
See what our happy Customer say about RS232-MDB. We are proud to have our users.
Very easy to use, let us quickly complete the development of the vending machine. And it has been shipped in bulk. From R&D to shipment, it only took less than two months."

Rik Vermeer
User from India
"WAFERSTAR's technical support is very professional. We have used this device for more than 10 years."

Simon Brown
User from USA
"We trust WAFER very much, and we have been working together for more than 8 years. From the MDB-RS232 adapter, they continue to introduce new products and solve many problems for us. Including the cashless payment adapter we have ordered these days, it is very simple and applicable."

Nicola Jacques
User from Canada
"We met 10 years ago and WAFER's technical strength is very strong. They have been making this product for more than 10 years and it is stable, reliable."

Sven Scheinert
User from UK
RS232-MDB and Relative product
---
We have a series of related products available!
Frequently Questions and Answers
---
You can find the questions and answers of your interest here!
Interested in our products
---
Welcome to visit our online shop to learn more about our products.
About WAFERSTAR
---
Design experts in the field of vending payment products
WAFER Company is a specialist in vending system design and manufacture the MDB converter for more than 15 years. Since 2003,HUOBEI Powered by waferstar and designed the MDB-RS232 adapter box and registered the brand for kiosk vending machine system application. After around 10 years in the field of MDB payment technology, and become the leading designer and manufacture of payment adapter in China. and also exported to many countries. Can provide self-service payment, comprehensive solutions for products in the field of vending machine systems.
MDB-RS232®,MDB2PC®,RS232-MDB®,PC2MDB® all are registered brand by waferstar. With rich experience in vending machine cashless payment module and MDB VMC controller design and continuous design updates and upgrades, our products already have a good market sales and long-term operation guarantee, and have won the trust of customers at China and abroad market.
MDB-RS232®,MDB2PC®,RS232-MDB®,PC2MDB® 均为上海威佛微电子有限公司(waferstar)注册品牌。 凭借在自动售货机无现金支付模块和MDB VMC控制器设计方面的丰富经验和不断的设计更新升级,我们的产品已经具备了良好的市场销售和长期运营保障,赢得了国内外市场客户的信赖。
MDB-RS232®,MDB2PC®,RS232-MDB®,PC2MDB® son marcas registradas por waferstar. Con amplia experiencia en el módulo de pago sin efectivo de la máquina expendedora y el diseño del controlador MDB VMC y actualizaciones y mejoras continuas del diseño, nuestros productos ya tienen buenas ventas en el mercado y garantía de funcionamiento a largo plazo, y han ganado la confianza de los clientes en China y en el extranjero. mercado.
MDB-RS232®,MDB2PC®,RS232-MDB®,PC2MDB® sont tous des marques déposées par waferstar. Avec une riche expérience dans le module de paiement sans numéraire des distributeurs automatiques et la conception du contrôleur MDB VMC et les mises à jour et mises à niveau continues de la conception, nos produits ont déjà une bonne vente sur le marché et une garantie de fonctionnement à long terme, et ont gagné la confiance des clients sur le marché chinois et étranger.
MDB-RS232®, MDB2PC®, RS232-MDB®, PC2MDB® являются зарегистрированными торговыми марками waferstar. Благодаря богатому опыту в разработке модулей безналичных платежей для торговых автоматов и контроллеров MDB VMC, а также постоянных обновлений и модернизаций конструкции, наши продукты уже имеют хорошие продажи на рынке и гарантию долгосрочной работы, а также завоевали доверие клиентов на рынке Китая и за рубежом.
MDB-RS232®, MDB2PC®, RS232-MDB®, PC2MDB® sind alle eingetragene Marken von Waferstar. Mit reichhaltiger Erfahrung im bargeldlosen Zahlungsmodul für Verkaufsautomaten und dem Design von MDB VMC-Controllern sowie kontinuierlichen Design-Updates und -Upgrades haben unsere Produkte bereits einen guten Marktverkauf und eine langfristige Betriebsgarantie und haben das Vertrauen der Kunden auf dem chinesischen und ausländischen Markt gewonnen.
Our Company Contact Information
---
For Customer Support and Query, Get in touch with us.
Shanghai Wafer Microelectronics Co.,Ltd.
上海威佛微电子有限公司
Room.23E,LiangFeng Building,
NO.8 DongFang Rd.
Pudong District
Shanghai ,China 220000
Telephone
(+86) 21 68458945, (+86) 21 50454820
Business Inquiries
wafer@waferstar.com